Review When Tournaments Are Bored: Non-Standard Poker Games
Flip & Go appeared on GG poker – unusual tournaments, where before ITM, three cards are dealt preflop, after which all players automatically go all-in. Understanding the rules and remembering other poker experiments.
In November 2019, PokerStars announced Tempest Holdem and Deep Water Holdem, an atypical variation of the classic 6-max cash game with a mandatory straddle and ante that grows if the deal ends without being shown.
The differences between the games were only in the size of the stacks: if Deep Water resembled regular hold'em in deep stacks with a minimum buy-in of 100 big blinds, then Tempest was like the cap tables: only all-in or folding is available preflop, and the maximum buy is not exceeds 20 big blinds. Even if you get a big stack during the game, you still can't put more than 20 blinds or 10 straddles in one hand.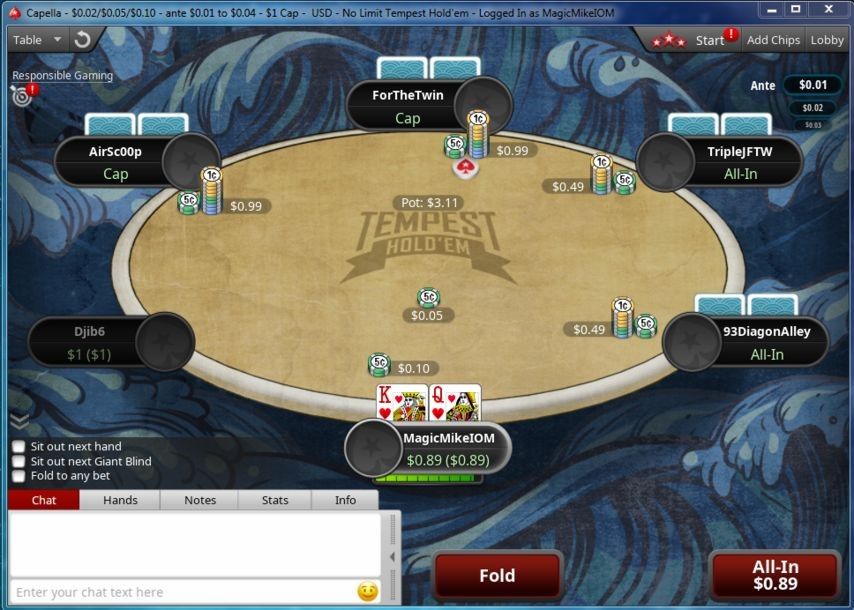 Although Tempest is not very popular (on weekday evenings it is difficult to find even one more expensive NL50 table), it is still available in the lobby – while its brother Deep Water did not last two months. It seems that poker players are making a choice in favor of greater dynamism and randomness: this is evidenced by the popularity of spins, which almost supplanted standard SnGs, and the appearance of accelerated versions of Spins Ultra and Spin & Go Flash.
In previous years, PokerStars was the main experimenter: he came up with unusual formats (like Fusion and Split) or popularized the development of other rooms (the same spins and fast poker). In 2020, GG poker took the lead in online poker – and for the first time offered a fundamentally new game based on MTT.
What is Flip & Go
Flip & Go is a new format of multi-table tournaments, where all players automatically go all-in before hitting the ITM, and then continue playing as usual (old-timers will remember that they first tried this idea on Full Tilt Poker in 2014 under the name Flipout tournaments) … Tournaments are in turbo format, 8-handed (9 players at the final table), blinds increase every five minutes, antes from the first level.
The new game opens in a separate tab in the lobby. There are 4 buy-ins to choose from:
– $ 0.05 with a $ 50 guarantee (no rake)
– $ 0.5 with a $ 500 guarantee (6% rake)
– $ 3 with a $ 1,000 guarantee (rake 5%)
– $ 20 with a $ 2,500 guarantee (5% rake)
Tournaments start every half hour starting at midnight. The countdown to the next tournament takes place right in the lobby.
The first feature of Flip & Go catches your eye immediately upon pressing the registration button: instead of the usual rebuys and add-ons in the tournament, you can directly pay several buy-ins and get a proportionally increased stack. By default, the room offers to enter the game with five stacks:
The maximum stack is issued when paying 10 buy-ins
After the start of the tournament, the first stage begins: all players automatically go all-in. The winner is determined according to the rules of hold'em, but preflop everyone gets 3 cards instead of two – one card must be thrown out within 30 seconds.
All this time, the player sees the opponents' cards, which makes it possible to count the outs in a significantly reduced deck, where there are only 28 cards left. If you fail, the game will discard the lowest card.
Holders of large starting stacks have an advantage – they have a better chance of staying in the game even after a lost all-in. Even more randomness is added by the ability to increase the stack several times, if you have a mini-combination of three starting cards: set, straight, flush or straight flush.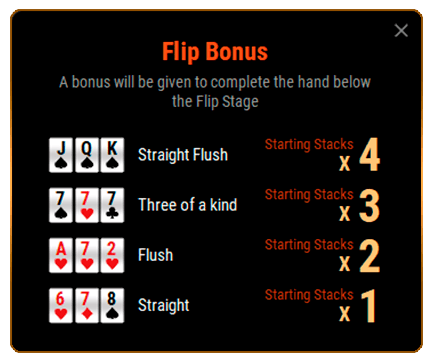 In fact, a straight doubles the starting stack, a flush three times, a straight flush five times.
Players go all-in until there is no one left at the table. When the winners at all the tables are determined, the rest begin to play as in a regular tournament – and all of them are already in the prize zone. On average, the pre-ITM period lasts 5-6 minutes, and the entire tournament lasts about two hours.
Time will show whether Flip & Go will become a permanent format, but in the early days the game already attracts thousands of players, and guarantees are confidently beating at all limits.
In the tab with tournaments, satellites to Flip & Go for $ 20 are already running:
| Tournament name | Warranty | Time, MSC | Validity of tickets |
| --- | --- | --- | --- |
| Flip & Go Step 1 | 20 tickets for $ 0.54 in Step 2 | Every hour from 08:00 to 00:00 | 4 days |
| Flip & Go Step 2 | 5 $ 5.4 Qualifier Tickets | Every hour from 08:00 to 00:30 | 4 days |
| Flip & Go Step Qualifier | 25 $ 20 Flip & Go tickets | Daily at 20:00 | 7 days |
We decided to recall what other non-standard poker games are available in large rooms right now.
Winamax FLOOOP
The most popular French room is ready to experiment no less than the Stars: fast poker in heads-up format, cash tables with 5bb stacks, Bingo (hold'em with additional prizes when the hand with certain cards is won) is available to players. The main invention of Winamax, the back, does not stand still. In 2020, the room held two major promotions at once in cooperation with well-known non-poker brands, UNO and Monopoly; both took more than a month and not only changed the design of the tables, but also added small mini-games.

If you prefer to play cash and like to watch the flops, you may be interested in Winamax FLOOOP – unusual no-preflop hold'em tables, where all players pay antes and start the hand right from the flop. There are 5 limits with buy-ins ranging from € 0.5 to € 250.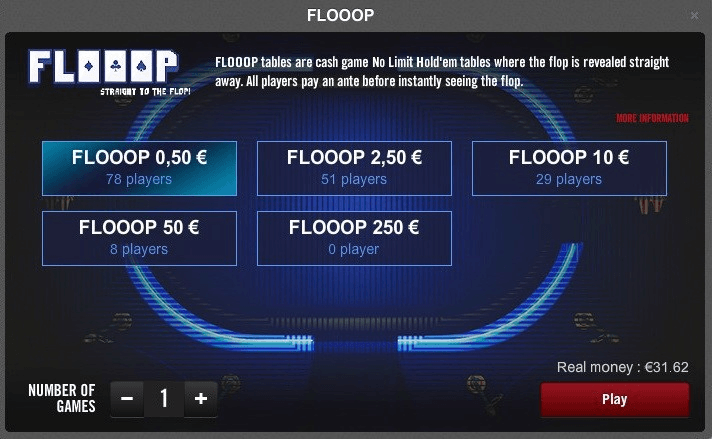 A similar system operates in WPN rooms and is called Bomb Pot, but most of the hands at such tables are played according to standard rules, and the game without preflop bets takes place on average once every 15 minutes.
All-in or Fold Bingo at GGpoker
Another variation of short-stack cash game: starting stack with eight blinds, two available actions, all-in and fold, and built-in bingo play.
The player is given a field with 16 cards. If you win the hand (reach the river) with the marked cards, the field fills up gradually; if in 50 hands you manage to collect 4 cards horizontally or vertically – you win a random prize.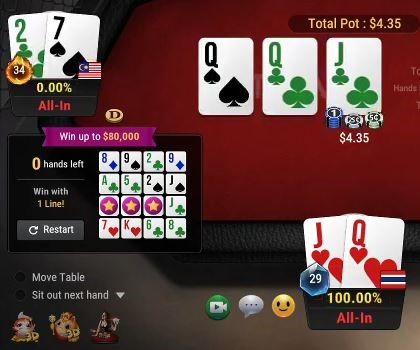 You can also play Omaha, in which case the number of hands for collecting bingo is reduced to 20.
PokerStars Grand Tour
In the middle of last year, PokerStars launched the Grand Tour, a game reminiscent of spins and multi-stage satellites. In fact, this is a 4-max hyperturbo tournament in PKO format: for each player knocked out, you receive a bonus, and the reward for your head also increases. Unlike regular knockout tournaments, the bounty can be randomly increased several times, up to x6,000.

In regular knockouts, the winner of the entire tournament receives a bounty for himself. In the Grand Tour, the rules become more complicated: after defeating three opponents, you move on to the next stage (they are called sprints). There are 6 stages in total, the further, the larger the rewards for knocking out opponents and the higher the chances of getting a large multiplier. To get a bounty for yourself, you need to collect $ 100 and win the stage.
Available buy-ins, they are also stages, they are also sprints: $ 1, $ 2, $ 5, $ 12, $ 25, $ 60. The game can be entered on any of them. The blinds grow every 4-6 hands, the starting stacks are 20 blinds, and the rake in all tournaments is 10%.